Have an oil spill emergency? Give us a call. Some of our skimmers are readily available, while others may take manufacture time.
Weir Skimmers
Weir-type skimmers are light weight and compact, easily deployed and operated by one person. The weir automatically adjusts to the pump rate continually maintaining a skim. Weir skimmers can be set up for unattended operation or fitted with an operator control accessory package.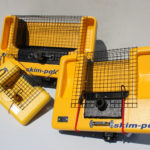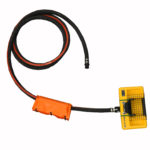 System Features:
Durable ABS Plastic Construction
Self-Adjusting Weir
Light Weight
360 Degree Surface Attraction
Static or Operator Controlled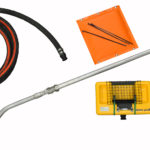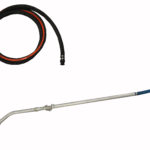 Accessories:
Hose-Flexible light weight suction hose with quick connect fittings.
Hose Float: Needed behind the skimmer to support the hose.
Control System: Wand kit to connect to top of skimmer for manual operation.
Popular Models Include:
Skim-Pack Weir Type Skimmers
ALWEIR 3″ Weir Skimmers
Belt Skimmers
If you're looking for a belt-type oil skimmer, look no further! We offer Abanaki belt oil skimmers with simple design and construction that works for you. Rugged, reliable and low maintenance, these belt skimmers have the removal capabilities ranging from 1 to 200 gallons per hour.
Popular Models Include:
Oil Grabber Model 8
Oil Grabber Model 4
Grease Grabber
Tote It Portable Belt Skimmer
Drum Skimmers
Designed for both portability and extreme durability on the toughest jobs, Drum Skimmers utilize a revolving to remove oil from the water surface. Capable of operating in shallow waters, these units are ideal for inland and marsh spills.
Popular Models Include:
Mini D Pneumatic Drum Skimmer
1D18P-24 Pneumatic Drum Skimmer
1D18P-36 Pneumatic Drum Skimmer
2D18H-36 Hydraulic Double Drum Skimmer with Power Pack
Disk Skimmers
Our disk skimmers are durable and portable, utilizing 13 24″ diameter olephilic disks capable of removing hydrocarbons using a slow moving rotation that allows for a 95% efficiency. These skimmers are ideal for permanent installations and emergency response applications.
Popular Models Include: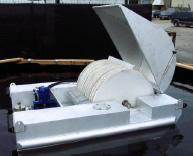 C-Disk 13/24 Coated Disk Skimmer with Power Pack
Brush Skimmers
Our brush skimmer is capable of recovering hydrocarbons at rates of up to 15 tons per hour. Easily deployable and reliable, these units are perfect for inland and offshore spills.
Popular Models Include: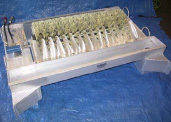 1B18P-36 Pneumatic Brush Skimmer
Mop Skimmers 
This rugged and portable wringer unit is designed for direct mounting to a 55-gallon drum or other suitable collection pan. Boasting a four-inch diameter mop, wrung once during each pass through the unit by two squeeze rollers, and a quick release lever for added safety, this skimmer is perfect for permanent installations on pits, API separators, storage tanks or holding ponds.
Popular Models Include:
Mop Wringer C-14D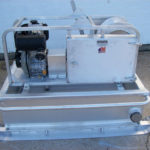 Don't see what you're looking for? Give our sales team a call; we can find the skimmer you need!